Download Our Free Whitepaper: The Future of Mass Fatality Preparedness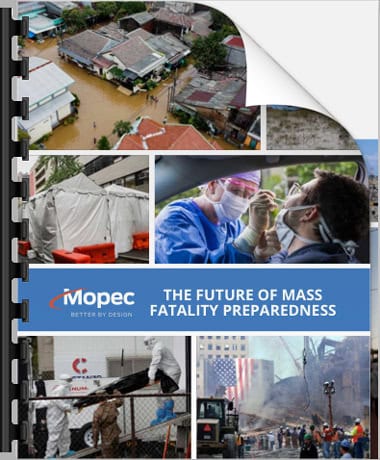 Mopec has now released The Future of Mass Fatality Preparedness whitepaper. This report analyzes the rise of mass fatality events, the COVID-19 pandemic response and the growing need for emergency preparedness plans.
"There are countless lessons that can be learned from recent mass fatality events, said Jay Troger, CEO at Mopec. "We've spoken to our customers, examined recent coverage and reviewed industry trends in order to develop this whitepaper and create resource for organizations to use as they plan and prepare for the next crisis."
The whitepaper includes a list of questions that organizations should ask themselves to assess their level of catastrophe preparedness, as well as a crisis planning outline and supplies checklist. The Mopec team also provides global natural disaster statistics and an in-depth analysis of the first wave of the COVID-19 pandemic.
"Organizations across the country were caught off guard when the COVID-19 pandemic hit earlier this year," said Dr. Joyce deJong, Mopec Board Member and medical examiner for 14 Michigan counties. "The response revealed a great deal about what agencies and organizations should do when faced with a mass fatality or natural disaster. This is the time for an honest, thoughtful review of preparedness plans so that we may identify gaps in our processes and develop best practices."
In addition to providing the whitepaper, Mopec's experienced team of professionals is available to provide customized emergency preparedness, mass fatality response and surge capacity products and services. Fill out the form access the whitepaper and have it emailed to your inbox.


Mopec is proud to announce the latest innovation and addition to its Guardian Systems product line. The Mopec Guardian Quick-Deploy Cooler is adaptable, portable, and is a rapidly deployable system for the long term storage of human remains. Mopec has integrated its new patented rack technology along with patent-pending insulation technology to create an expandable remains storage platform that will instantly increase morgue surge capacity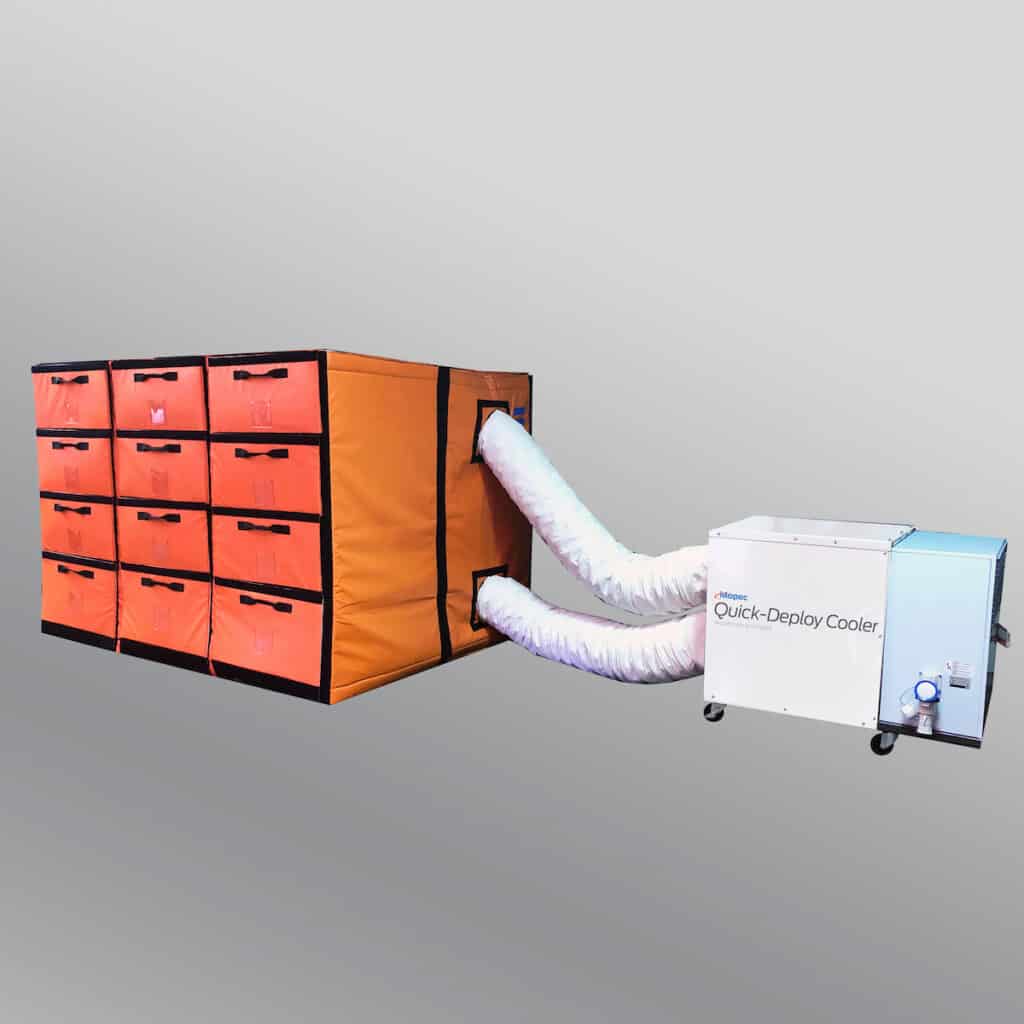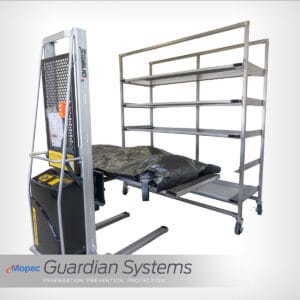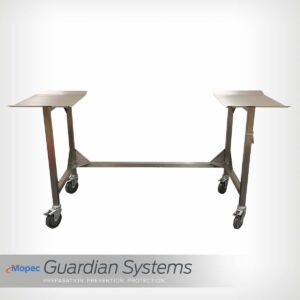 COVID-19 Quick Response
Quick Shipping Available
Easily to assemble and disassemble – only 8 bolts!
Heavy duty design – will hold up to 1,500 lbs in body weight; will last for many years and many assemble/disassemble cycles
Suitable for refrigerated trailers or other cooled structures
3,4, 5 tier designs
Large, heavy-duty casters are easy to roll and lockable
Designed for loading using a forklift (JD305 recommended)
Compatible with One Body Cadaver Carrier JB026
All stainless steel construction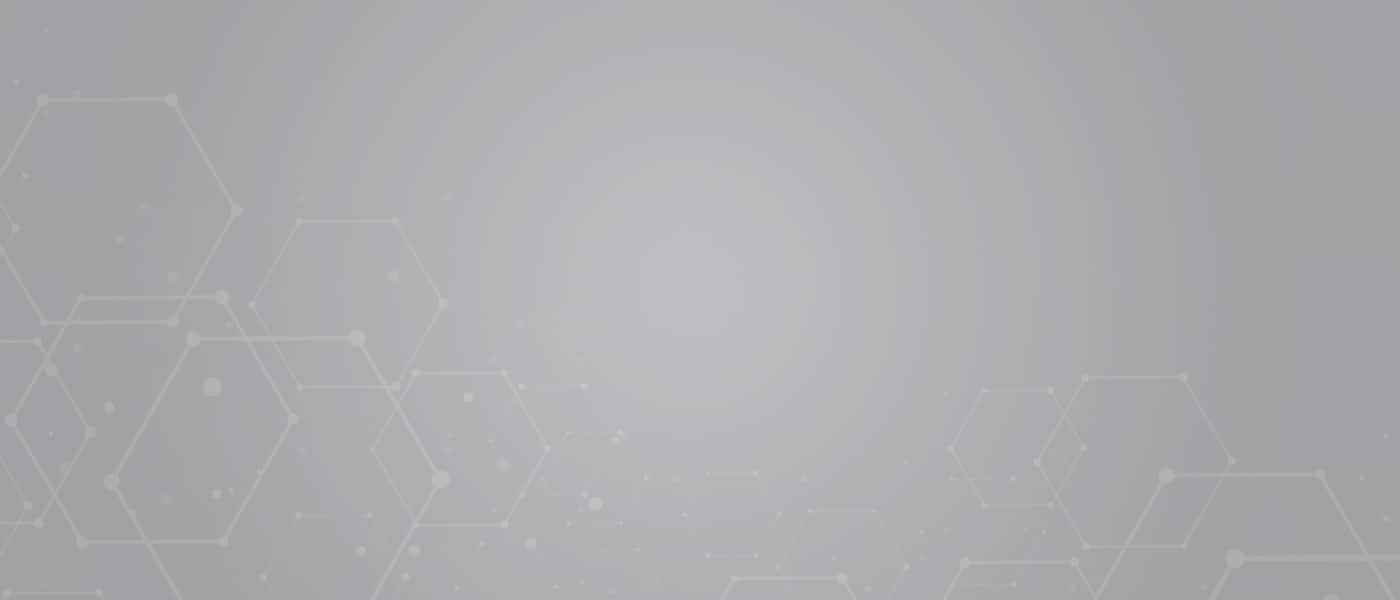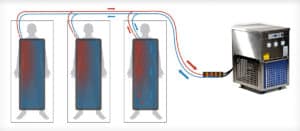 MERC System: Body cooling without a refrigerator
The patented Mopec MERC System® (Mortuary Enhanced Remains Cooling) is the first direct contact cooling system using liquid cooling technology to store human remains, and is the only human remains cooling system that is completely portable, scalable and interoperable.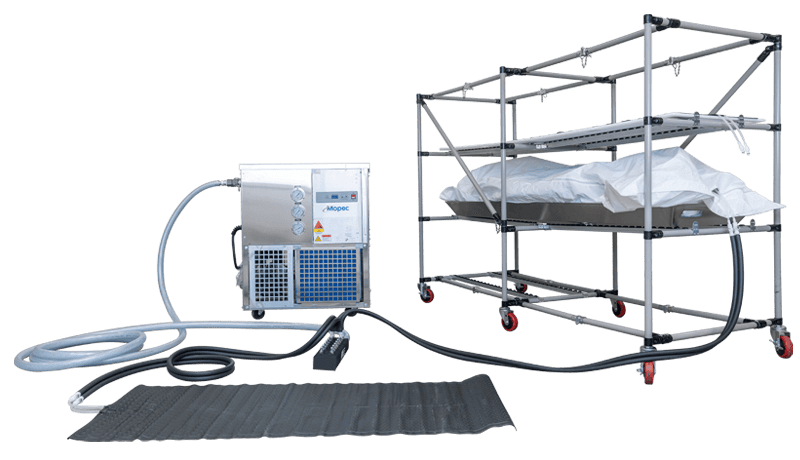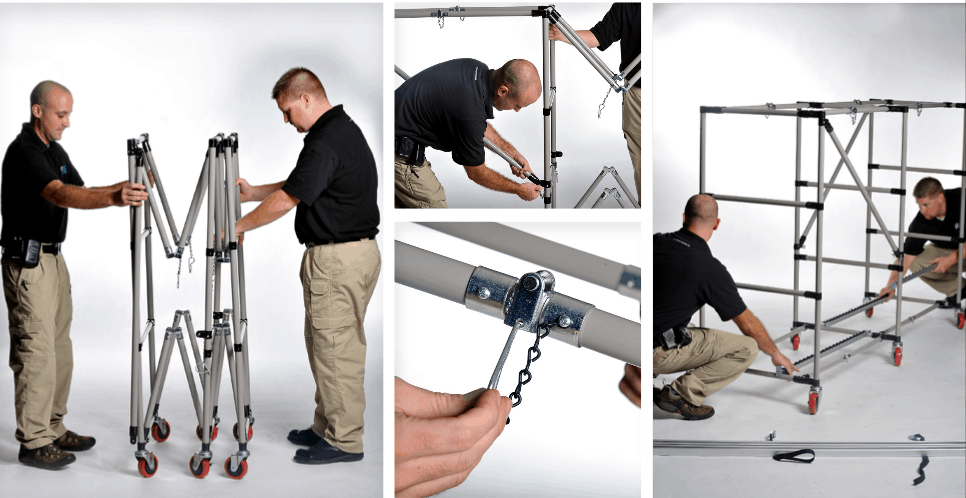 MRS Collapsible Racks: Quick Deploy cadaver storage system
Mopec MRS Cadaver Storage Systems are designed to meet the demands of transporting and storing cadavers. Each cadaver storage system is composed of heavy duty steel tubing and features removable roller guide rails. All rack sizes: interior opening per tier is 15" H (38 cm) and 10"D (25.5 cm) in collapsed form.
| | |
| --- | --- |
| Width | 24 Inch, 30 Inch, 36 Inch |
| Tiers | Three Tier, Four Tier |
| Color | Gray, Blue, Orange, Black, Red, Yellow, Dark Green |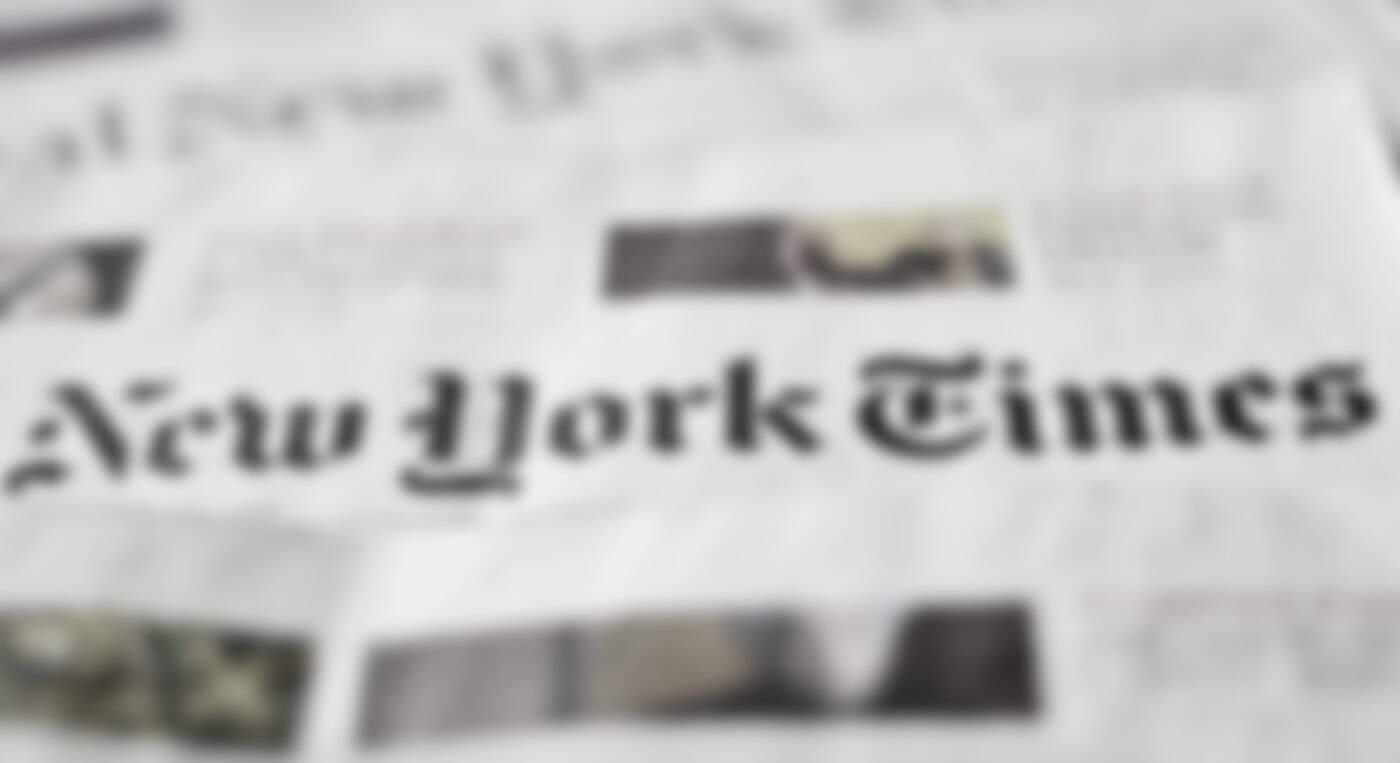 Mopec's Solutions Can Prevent Morgue Surge Capacity Problems
Inside Two NYC Morgues Overwhelmed With Coronavirus | NY Times
It is painful, real-life experiences like these that Mopec is working to prevent as we provide durable body bags, MERC Body Cooling Systems, and Guardian quick-deploy morgue storage racks across the country.
The toll of coronavirus is something we hear about all the time, but many of us do not necessarily see. A surge can quickly overwhelm hospital morgues and cause situations like Mariel and Devin chronicled in their experience as "Last Responders" helping to take care of the deceased. 
"This is truck number one. We try our best to make sure that no bodies go in there. Unfortunately, we are often at a last resort." Devin shares as he displays a photo of a trailer with no racks and bodies in body bags spread throughout while he describes the lack of refrigerated storage. 

Source: New York Times
Mariel describes the anxiety and difficulties of thin body bags ripping and leaking along with the physical pain of trying to manually maneuver bodies onto makeshift wooden racks.
---
Mopec Mobile Morgue Trailers Available for Rental & Purchase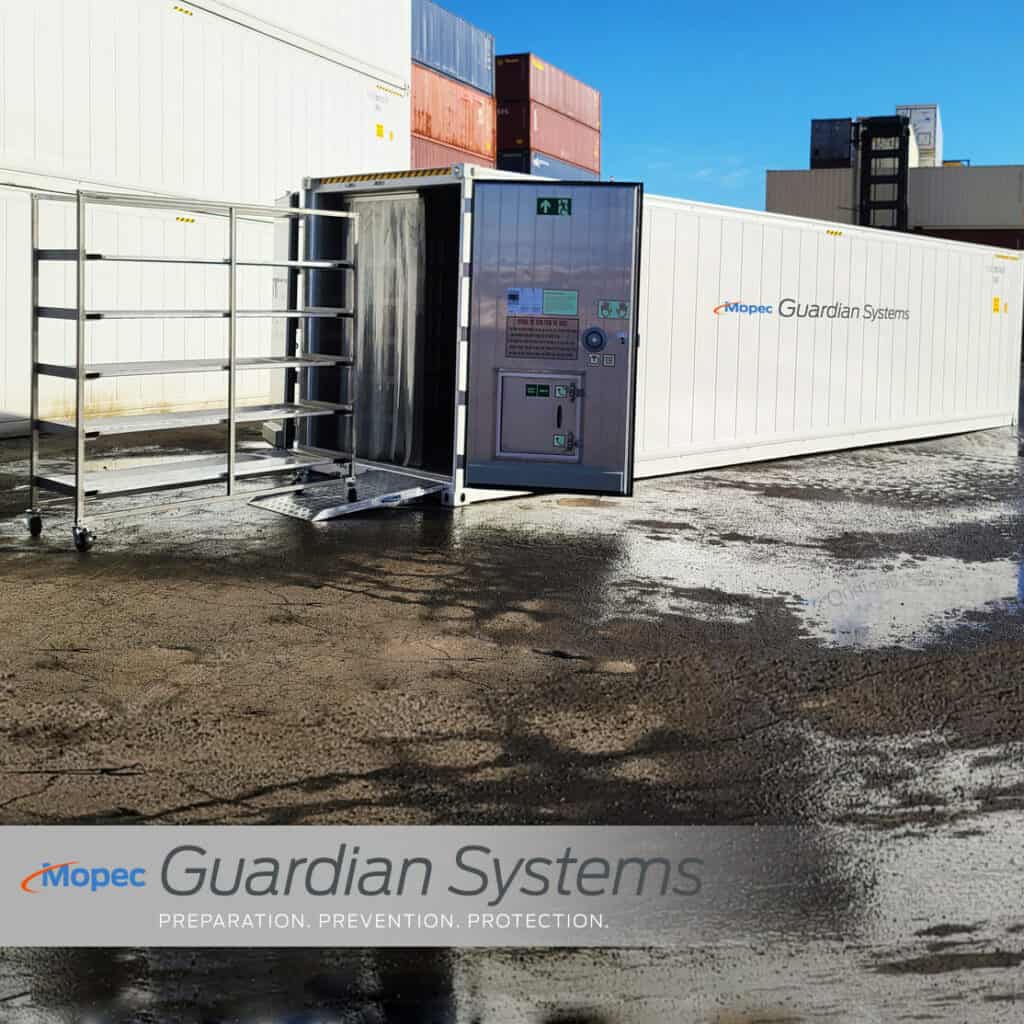 Mopec provides a total solutions for overflow and isolation of bodies complete with racks, trays, lifts, and bags.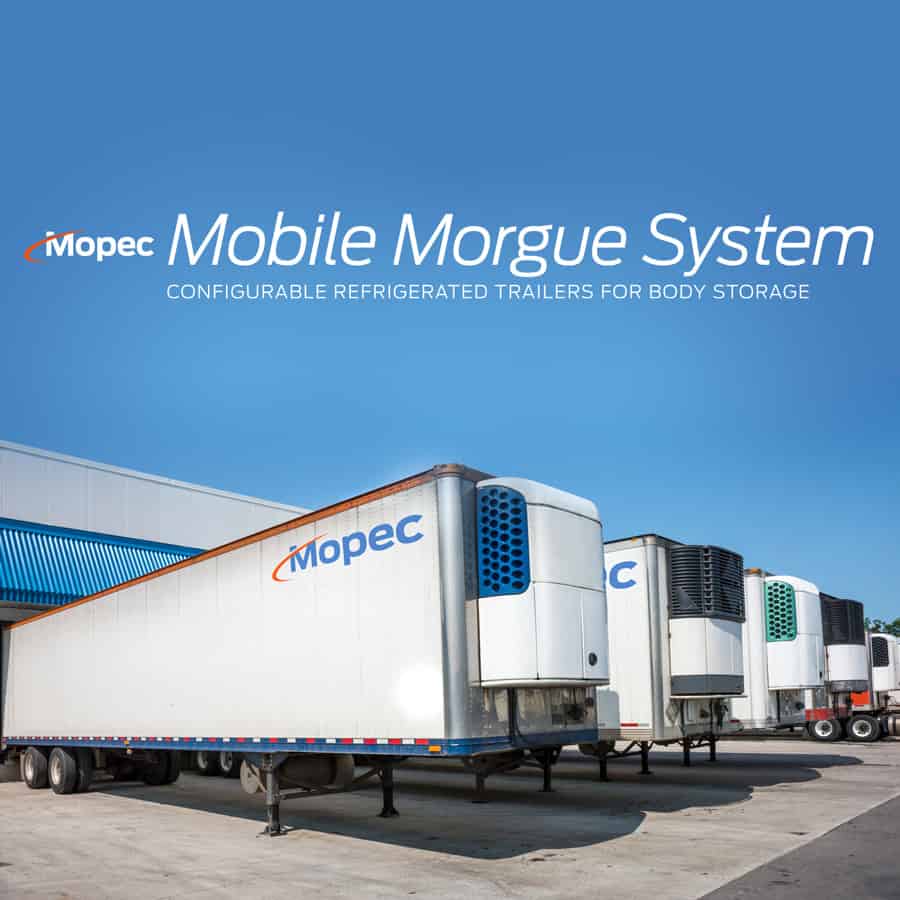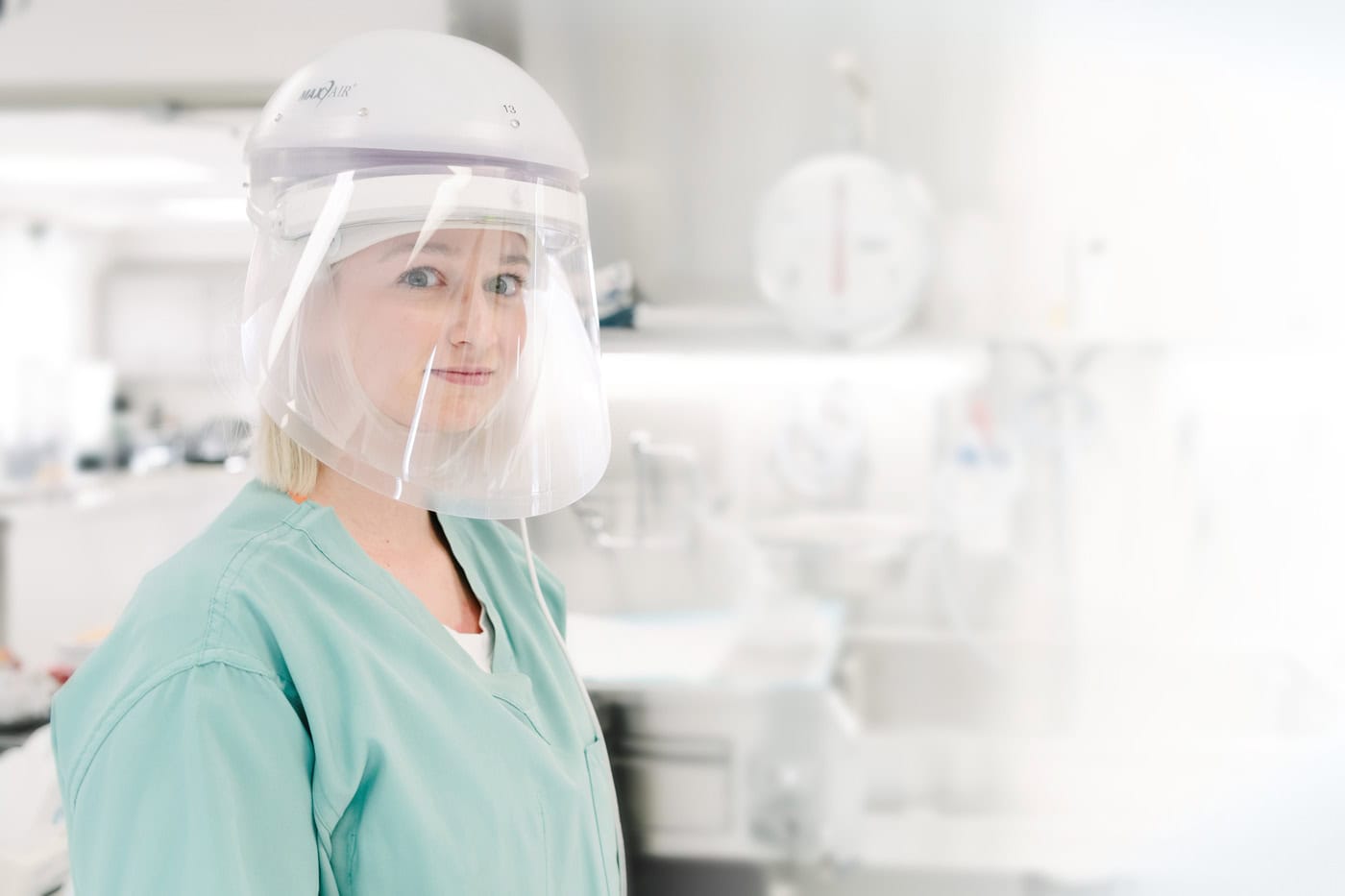 Equip your workspace with the most innovative and easy-to-use Powered Air-Purifying Respirator available. No fit testing. No N95 masks.
Mopec is proud to offer the MAXAIR CAPR® Series: The No-Hose PAPR from Bio-Medical Devices International. In laboratories and autopsy suites working with agents that have a known potential for aerosol as well as contact transmission, additional protection may be provided by personal protective equipment such as the MAXAIR CAPR Systems.The MAXAIR CAPR highly integrated design eliminates the conventional PAPR reliance on cumbersome air tubes and bulky, belt mounted blower units. When compared to conventional PAPRs and N95 respirator masks, the lightweight MAXAIR Helmets, with their positive pressure air flow and unique safety LEDs, standout as a superior method of personal respiratory protection.
PLEASE NOTE: We are unable to provide quotes for MaxAir outside of the Pathology, Autopsy, Mortuary, Medical Examiner/Coroner and Anatomy Lab markets in North America. For further information or to obtain a quote, please contact them directly at maxair-systems.com.
Introducing Mopec Guardian Systems for Lab Safety
Mopec has always been focused on providing the safest work environment possible by pursuing creative solutions to everyday problems. We've taken the same ingenuity behind the Mopec Maestro Grossing Station, the safest grossing station available, and developed two new products to improve your laboratory disinfection processes and help keep you safer.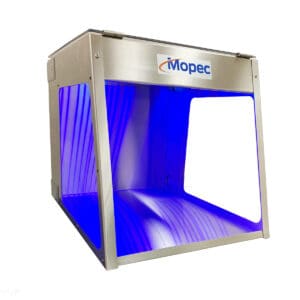 UV-C Disinfection hood
This benchtop hood utilizes a UV-C light in 254nm wavelength that acts as a germicidal on the surface of objects in just minutes. The large opening lid and corner cover plates allow for small laboratory items to be placed inside of the hood for typical sample preparation and power cord routing. The timer dial is used to adjust minutes of exposure required to kill typical bacteria, viruses, molds, and spores.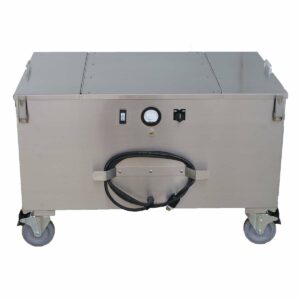 Purepath HEPA Air purifier
The BF840H PurePath HEPA Air Purifier is a heavy duty auxiliary air filtration unit designed to filter to ambient air to a minimum particle collective efficiency of 99.97% for particles of 0.3um or larger. Equipped with two particulate filters and two HEPA filters, the BF840H has the horsepower to capture airborne bacteria and viral organisms to help maintain a safe laboratory environment.
---
Mopec Secures Increase In Body Bag Production To Address Nationwide Shortage
Emergency response organizations, Medical Examiner offices, hospitals, and morgues across the country are quickly depleting stocks of standard and heavy duty body bags. Many have resorted to using thin lightweight or economy bags while increasing to using two or three per decedent to ensure durability and safety. This sudden demand has left the few body bag manufactures and suppliers in the country with the inability to keep up with the demand. Even with adding more employees and multiple shifts, body bag manufacturers are reporting backlogs of three to six months, or longer. Recognizing this need, Mopec began pursuing manufacturers across the continent to assist in the effort.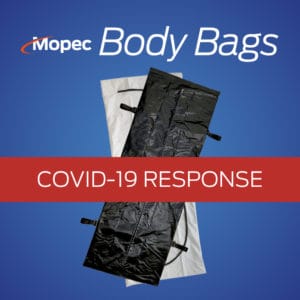 ---
---
Mopec Guardian Systems | Personal Protective Equipment