REAL COVID-19 PROTECTION. NO N95 MASKS. NO FOGGING. NO BULKY PAPR HOSES.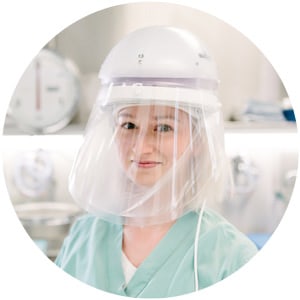 With the World Health Organization (WHO) declaring the coronavirus outbreak a public health emergency of international concern, the Centers for Disease Control (CDC) is advising healthcare workers to observe Interim Guidance for Collection and Submission of Postmortem Specimens from Deceased Persons Under Investigation (PUI) for COVID-19, February 2020. These recommendations include the standard precautions including consideration that, "Powered, air-purifying respirators (PAPRs) with HEPA filters may provide increased worker comfort during extended autopsy procedures."
Mopec is proud to offer the MAXAIR CAPR®: an Internal PAPR System from Bio-Medical Devices International. In laboratories and autopsy suites working with agents that have a known potential for aerosol as well as contact transmission, additional protection may be provided by personal protective equipment such as the MAXAIR CAPR Systems.
The MAXAIR CAPR eliminates the conventional PAPR reliance on cumbersome air tubes and bulky, belt mounted blower units. When compared to conventional PAPRs and N95 respirator masks, the lightweight MAXAIR Helmets, with their positive pressure air flow and safety LEDs, standout as a superior method of personal respiratory protection. Explore the MaxAir System.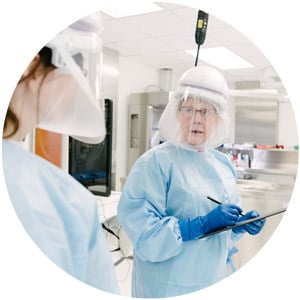 "There is no mask anymore, no goggles anymore. The MaxAir keeps you safe from bacteria, it provides 100% splash protection, continuous fresh and filtered air, and one of the great advantages, there is no fogging!"

Joyce L. DeJong, D.O. | Professor & Chair – Dept. of Pathology
WMU Homer Stryker M.D. | School of Medicine 
Some of the key considerations regarding choice of respirator design include the need for proper fit during actual working conditions, full face, head, and neck contact and fluid protection, overall comfort and non-interference to autopsy technicians while performing all required procedures, and the ability to easily communicate with other teammates who could be under considerable stress.
The state of the art design of this Powered Air Purifying Respirator (PAPR) uniquely integrates the fan, motor, filter, and controlled air flow mechanism into a compact system, contained in a comfortable and lightweight helmet. This unique design eliminates the need for the usual PAPR apparatus utilizing a long breathing tube connected to a belt mounted motor-blower-filter unit, both of which are external to protective gowns, require more rigorous cleaning procedures, and can dramatically restrict maneuverability.
The CAPR® Series is MAXAIR's most innovative line for the broadest range of applications and most economical respiratory and contact protection solutions. MAXAIR CAPRs meet todays needs and tomorrows expectations.
The MAXAIR CAPR Systems are positive pressure, loose fitting PAPRs for particulate contaminants and therefore all configurations do not require fit testing.
All MAXAIR PAPRs are NIOSH approved and include a safety LED End of Service Life indicator for both air flow and battery charge in the wearer's upper peripheral vision, always on and visible during working conditions.
The combination of the LED heads up display, the constant flow air controller that is user adjustable to meet individual cooling vs. work exertion needs, and the choice of an 8-10 hour or a 12-15 hour Lithium Ion Battery, assures that you can work through a full shift in comfort and without worry.
MAXAIR Systems are backed by a full warranty and a full complement of downloadable training videos and Users Instructions. Request a quote for your MaxAir CAPR® System today and be prepared for tomorrow!